UPDATE
5/14/2015: Damaging winds, hail, severe TSTM affecting NorCal. Meanwhile, the monstrous +6°C (at depth) oceanic Kelvin wave in the tropical Pacific now has an atmospheric companion just as powerful: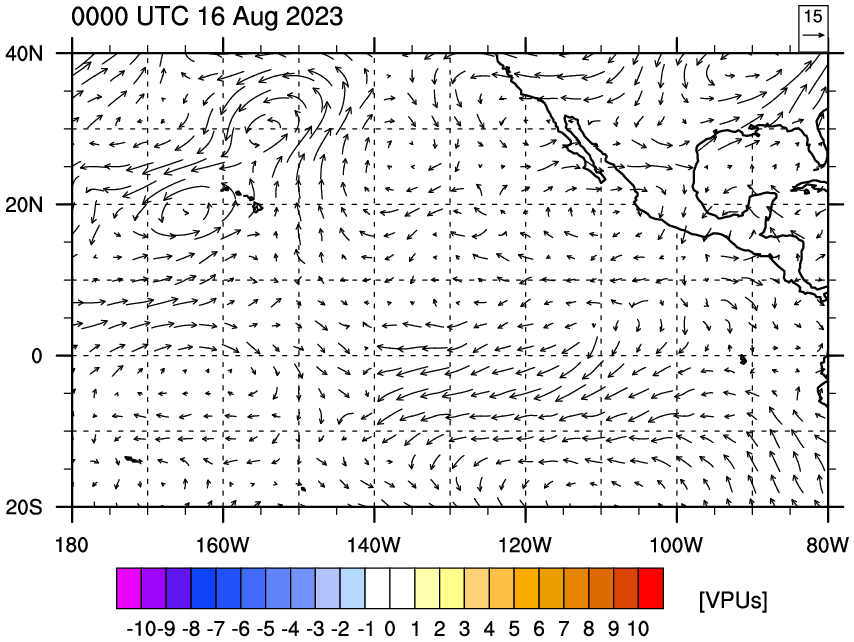 FYI, those are
upper-level
wind anomalies on that map; easterly upper-level anomalies indicate an
inverted Walker circulation
and, thus, westerly surface anomalies of the same speed. Inverted Walker circulation Kelvin waves coupled with downwelling oceanic Kelvin waves in the Pacific, on top of the presence of the Southern Hemisphere Booster (see below) to keep everything in check, are fully indicative that an El Niño ocean-atmosphere feedback loop is in full effect.
Original post continues below.
After a rather
hellishly dry winter
for the 4th year in a row, this spring sure has been an exciting one to say the least. Last month, a deep Gulf of Alaska trough brought a brief but substantial set of unusual spring downpours, and here we are, on Wednesday, May 13, 2015. There was an inside slider (ugh!) last week that did manage to bring at least some measurable precipitation... ah, but now there's yet another deep Gulf of Alaska trough approaching. This one is set to hit tomorrow night into Friday, bringing a maelstrom of thunderstorms (including ones capable of producing [!]
more hail
― possibly much bigger, say, the size of golf balls this time around since spring cloud tops are much higher than winter ones) and heavy downpours, not to mention extreme snowfall amounts in the range of two feet or more above 5000 feet in elevation. All this in what is normally the first month of California's dry season, and the result is a May that could end up being, just with these two storms alone, more than three times the average.
Meanwhile in the tropical Pacific, it's really getting hot out there. High temperatures, in what should be fall into winter in the southern hemisphere, are now soaring into the 80's in Peru and northern Chile, and the water off their coast (normally the Humboldt Current is cold indeed) is now also in the low 80's. In Australia, however, it's getting rather cold: temps are now in the 40's in southern and eastern Australia, in what really is their fall, not winter, thanks to a powerful storm (the
Southern Hemisphere Booster
) that actually
sent high surf all the way here
last week, and since this is cold dry air coming from the desert that is Antarctica (and moving over the desert that is Australia's Outback) we're talking about, it's also drying out Indonesia, creating an atmospheric pachyderm (tropical blocking high) that's forcing all the tropical convection to move east, creating an army of powerful westerly wind bursts ― three of which (and counting) have made it all the way across the tropical Pacific from one end to the other, so far ― that are pushing warm water anomalously from west to east along the Pacific equator and Ekman-pumping it into Kelvin waves at the same instant. Sound familiar?
19th century Peruvian fishermen coined a name for this phenomenon, satirizing over its tendency to peak around Christmas time: El Niño. That's right, Australia's Bureau of Meteorology, Japan's JAMSTEC, and NOAA all agree: we're talking about a whopper of an El Niño developing in the Pacific right now, and we all know what that means:
consider these recent anomalous May deluges a foretaste of the drought-buster to come
. The most recent moderate El Niño ― 2009-10 ― completely wiped out a drought that began in 2006-07, dumping rainfall totals that amounted in not inches, but *feet* that winter, with two of those feet of rain (and tens of feet of snow) falling with just
one storm
(technically a vaguely Sandy-like hybrid of a super-typhoon, Pineapple Express, and Aleutian low that actually predates Sandy by three years). The most recent El Niño comparable to this one, however, in 1997-98, managed to dump rainfall totals of 44 inches in San Francisco (a record) and 33 or so inches in Los Angeles (second only to 1883-84, by a hair). To put this in perspective, those extreme anomalies off South America (averaging 3°C above normal) are actually unprecedented this early in the developing stages of an El Niño event: Even 1997-98 barely reached +1°C in Niño1+2 (that region right off South America) back in May 1997. Moreover, once that Southern Hemisphere Booster is locked into position and keeps dumping Antarctic air across Australia, keeping the Indonesian atmospheric pachyderm locked into position, it upwells anomalously cold water off northern Australia, creating a west-to-east tropical Pacific MSLP gradient, and thus, more westerly wind bursts. Notice the feedback loop?
Since the southern hemisphere is now approaching its winter with an El Niño now rapidly intensifying, there's only one way the El Niño can go from here: into total overdrive. Expect to see that booster keep sending more and more Antarctic air through the back door, into the tropical Pacific, and set into motion a favorable environment for rapid El Niño intensification throughout the Northern Hemisphere summer and fall, sending the eastern Pacific hurricane season into overdrive (again) while shearing Atlantic storms apart at the same instant. Finally, as next winter comes into play, what fuels the EPAC hurricanes also fuels atmospheric rivers. Convection in the Pacific remains east of the date line. This tropical convection ― which is in turn a result of the El Niño induced westerly wind bursts ― is what atmospheric rivers depend on for fuel, and since those storms then go on to drag the tropical convection eastward, they also drag the westerly wind bursts east with them, strengthening the El Niño even more throughout the winter. Finally, as the spring comes around, it quiets down... but by then the drought will have been completely erased thanks to rainfall totals on par with 1997-98 (or more extreme still) that could easily top three, four, even five feet of rain and as much as 60 feet of Sierra snow in the same instant. Consider yourself warned, drought: you may have only left us with one year of water, but with this El Niño feedback loop now taking off, you also only have one year left to taunt us.